I need your hair advice.  Yes, I realize Whoorl is the go-to gal in the blogosphere for this sort of thing, but I, like, DON'T HAVE TIME TO WAIT.  My appointment is THIS Saturday and I'm freaking out because I want something completely different.  But, I'm skeered that I'll end up hating it and then be angry and frustrated that I spent hard earned money on it.
So I need your help so that I can blame you, too, if it turns out horribly!  I'm, uh, kidding of course.  [insert nervous laughter here]
I've poured and poured over hair photos.  Long hair, medium length hair, short hair…and I *think* I've made a decision.
Currently I have hair that rests just past my shoulders.  You know that really annoying length, where it isn't really long, it has no shape.  It's just there.  The color is sort of a brownish, with blondish streaks in it.  In other words it's U.G.L.Y.
Here is the hair that I want.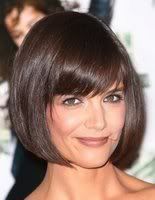 I want to get a more all over color, like Katie's, except not as quite dark as hers.  Also, I'm concerned about the amount of bangs.  Maybe it's too much?
Some things to keep in mind…
1.  I have fine, thin hair.
2.  Until having children I had very straight hair, now I have random and annoying waves.
3.  I don't have lots of time for styling my hair, but this style (to me) doesn't look especially high maintenance.
Edited to add:
4.  My natural color is a dark-ish brown.
5.  I do plan to dry and flat iron my hair everyday.
I also think that it's important to admit that I've chosen celebrity hair styles before.  When I see their hair, I picture a far improved version of myself with their hair, but also with their facial features, toweresque height, thin thighs, and professionally applied make-up.  All this expectation usually sets me up for disappointment.
Voting is CLOSED. I mean, you can still vote if you want, but I already got my hair cut and won't be checking this poll again. Just so you know.
Now go vote! Susan B. Anthony worked very hard to give you this right to vote. Don't disappoint her.
Also edited to add:
My hair currently looks similar to my profile picture, only longer and less shape around the face.  And yes, I'll be posting after pics this weekend.