I filled out a job application yesterday for my former school district here in Tennessee.
For some reason, with all that's going on in my life, starting a job after THREE years at home with my children suddenly seems like a good idea.  I mean I have NOTHING ELSE going on right now AT ALL.
(Except for the fact that we just moved, we close on our house in one week, I have ZILLIONS of things to do for the closing, once moved in I'll have to unpack my entire house in lightning speed to get ready for Christmas, CHRISTMAS HOLY CRAP IT'S IN A MONTH, A MONTH!, Christmas shopping, Christmas decorating, Christmas parties, Christmas baking, and finding childcare because I'm GOING BACK TO WORK.)
I feel a little like yakking in the bathroom.
Three months ago, I'd have never dreamed that I'd be sitting in my kitchen in TENNESSEE, filling out an application for a JOB.  Yet, here I am, filling out a job application, talking to my future boss on the phone about the schools that need a speech pathologist and the hours I'd work.
Originally, being a stay-at-home mom was something that I thought I'd do until the kids were in Kindergarten.  Eventually, I pushed the timing back to *maybe* junior high.  I've never even left my kids with a babysitter.  But the thing is, I really think I NEED this.
The universe is on my side (so far) on this, too.  Every time we've moved before, I've had to jump through about a gazillion hoops to get a teaching certificate.   I recently discovered that my Tennessee teaching certificate is still valid, so there are NO HOOPS.  Several of my former co-workers have emailed me and told me how desperately they are in need of Speech Pathologists.  Randomly at a birthday party last weekend, I ran into a special education preschool teacher who begged me to come back to work.  I was pulling my hair out in frustration trying to answer specific questions about the number of semester hours I've completed for the job application and realized that my mom works in Admissions at my former university and can get me all that information.
You have chills now, don't you?  I KNOW!  It's like I'm being guided by some unknown force into returning to work.
I really don't think I have a choice.
But it doesn't mean that opening this can of worms isn't also opening an enormous ulcer.
****************************
Today's Reader Appreciation giveaway is yet another way the universe is telling me that it's time to return to work. Well, sort of, if you think really, really, really hard about it.
Who'd like to win a brand new laptop messenger bag from Tom Bihn.com, exactly like the one below…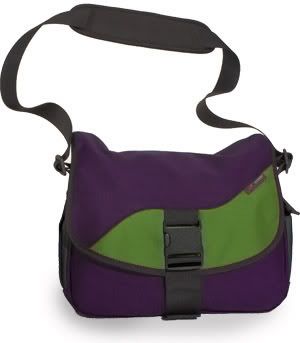 One lucky winner will win that laptop messenger bag!!  Tom Bihn has lots of great bags, messenger bags, laptop bags, backpacks, briefcases, to choose from!  I'm thinking that I'm going to NEED a new bag for work!

To enter, leave a comment on this post!!
Comments on this post will close at 7 AM, EST, November 22, 2008.
Comments closed, Thanks for Playing!