Those of you who follow me on Twitter may have had the pleasure of seeing this tweet from me yesterday: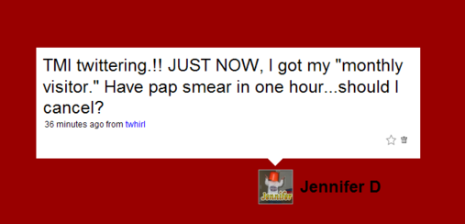 Oh I'm sorry Mom(s), Kate, my neighbors, any guys reading, I probably should have warned you that today you *might* get a little too much information about me that you didn't really need to know.
Oops.  My bad.  Consider yourself warned, it's not getting any better.
So now you know I'm menstruating AND I got a pap smear.  I suspect that sometimes when you come here to read you think to yourself, "wow, Playgroups are no place for children.  Where it's all vagina talk, all the time."
Anyway, back to my Twitter question yesterday…I got several replies and direct messages.  About 75% of you said I should cancel my appointment, 25% of you said I should go ahead and get my pap smear.
A few of you suggested I should call my doctor and just ask.  *smacks self on head*  Yeah, I probably should have just done that rather than Twittering about my "monthly visitor."****
When I called the office, the nurse said that there was no need to reschedule since my menses had just started.
On one hand, EWWW!  GROSS!
On the other hand, there were lots of tense moments trying to get someone (read:  Tate) to watch the kids while I went to the appointment.  I had to remind someone about twenty zillion times about this appointment and hear about how it's a bad time at work, but "it's no big deal *heavy sigh*.  I'll figure out something and be home to watch the kids **heavier sigh**."
Also as several of you on Twitter pointed out, the OB/GYN office has seen worse.
Since the doctor said to come on in, then there was no way I was rescheduling.  Gross or not.  So what would you have done in this situation?
PS. Don't you just hate the word "menstruation" and "menses?"  Me, too!  Ick.
PSS.  I vow that this is the last time I talk about my womanly parts for at least a month.  You're welcome.
PSSS.  ****"Monthly visitor" is a bit of a misnomer, as it's not any sort of "monthly" or "regular", but rather, "just comes whenever the f*ck it feels like it and stays for a month."  Thanks Mirena!