I know that many of you are very confused on how to use StumbleUpon to drive traffic to your site.  At least twice a week I have a conversation that sounds like this,
SU newbie:  "But Jenniferrrrrrrrrrrr.  I don't GEEEEEEEEEEET it.  I'm lost."
Me:  "Well, did you read my post about using the SU toolbar?"
SU newbie:  "Yes.  But I still don't geeeeeeeeeeeeeeeeet it."
Hopefully I can cover some of the BASICS of SU to help you all get a clearer picture of how to use this most awesome of traffic generating tools.  For those of you who are not SU newbies, scroll on down to Part 2 of this post where I'll give some more intermediate tips.
The basics on how to use StumbleUpon, or StumbleUpon Preschool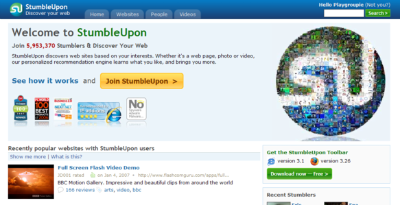 1.  First of all you have to set up an account at http://www.stumbleupon.com. You'll be asked to choose a name, try to choose one that best fits your brand.  Next, you'll be directed to "Join and Download Now."  The "download" part means that you'll be downloading the SU toolbar, which is vital to getting the most out of SU.
2.  You need to set up your preferences once you've received your password via email and have logged into your SU account.  Along the top of the page, you'll see four tabs:  Home, Websites, People, Videos.  Go to the "Home" tab.
Next you'll see some more tabs:  What's New, Favorites, Friends, Inbox, Preferences.  Go to the "Preferences" tab.  The first section you'll come to is "Personal Information."  After providing the necessary information, go to the next tab, "My interests."  Here you will choose the categories of items you're most interested in reading.  Go through each topic and choose as many subtopics as you'd like.
The final part of filling out your preferences is the "Public Profile" tab.   Here you can write a little blurb about you, your blog, share your interests, and customize the look of your SU page.  My blurb says, "I'm Jennifer, nice to meet you!  Come visit me at my blog http://playgroupsarenoplaceforchildren.com!"  You can write whatever you'd like, although I'd recommend putting your blog address, as this is the only place on your profile where you can do that.
Make sure you've hit the green "Save Preferences" button on the right hand side of the page!!!
3.  Start adding friends.  You can do this by allowing SU to search your email address book for people who are already SU users.  Click the "Connect with friends" button on the right hand side of the page.
(note:  StumbleUpon only allows you to add 200 friends.  If someone doesn't reciprocate and add you as a friend also, it could mean that they've reached their friend limit…or it means they don't really know how to use SU!)
4.  Now it's time to start stumbling! There are LOTS of ways to do this.  (Using the toolbar is fully explained HERE).
Here are my favorite ways:
**Just read a post or found a website you adore?  Stumble it!  Hit the "thumbs up/I like it" button on your toolbar and write a review.
**Go directly to your friends' SU pages and see what they've most recently stumbled upon.
**On your SU toolbar, look for the icon of two people together.  Clicking this allows you to stumble your friends' favorite posts.
**From your own SU page, look for the "what's new" tab and see what has most recently been stumbled by different friends.
5.  Write a review? Here's what I mean…you can simply write a one sentence review saying what the post/site is about.
"Recipe for peanut butter and fudge pasta."
Or you can copy a key sentence from the post for your review.
"From the post: 'Obama and McCain are running for President of the United States and this is who I'm voting for.'"
6.  Approach SU unselfishly.  Certainly you want StumbleUpon to drive traffic to your site, but you'll only get out of it what you put into it.  Stumble LOTS of people's sites, not just your own or one particular site.   If you're writing quality posts, other savvy SU users will review your work if you've reviewed them.
Part 2
This section will cover a few more intermediate tips for those of you who are more savvy SU users.
1.  Review your friends' SU blogs.   The term "blog" in this instance does not mean their actual BLOG that they write posts for, but rather the collection of sites they've stumbled upon.  Your SU blog is your SU homepage (mine is http://playgroupie.stumbleupon.com).
To review your friends' SU blogs, go to one of your friend's SU page/blog, and click the "thumbs up/I like it" button on your toolbar.  Write your review ("Love his stumbles, such a variety!"), add the tag "stumblers" and you're done!
The more reviews you write and receive, the more weight your stumbles carry.
2.  Take advantage of the StumbleUpon's Photoblog It! feature.  This feature adds the pictures you've stumbled upon to your page/blog.
When you stumble upon a photo that you'd like to review, you can right click on the image, scroll down to the bottom where it will say "StumbleUpon Photoblog It!"  Click that, write your review, add your tags, and done.
3.  DO NOT ONLY REVIEW YOUR OWN SITE.  I mentioned above to approach SU unselfishly and I cannot stress enough how important it is to stumble and review OTHER'S sites.
There is nothing necessarily wrong with stumbling your own site occasionally.  However if you stumbled your site today then before even CONSIDERING stumbling yourself again, you should go out and stumble 10-20 OTHER sites.
I'm certain that there will still be questions about StumbleUpon.  Feel free to leave your questions in the comments section.   I will not have computer access until Sunday afternoon so I'll be unable to answer any questions until then.
Other Blog Tip Sharing Project articles can be found HERE.