I know that conventional wisdom would dictate that if I'm going to post a recipe on the Monday before Thanksgiving, that the recipe would be Thanksgiving-ish.  Well I'm going to buck conventional wisdom and pour some hoisin sauce down her gullet.
So this is a recipe for great beef stew.  To be perfectly honest, I don't really like beef stew.   Actually I didn't really like beef stew until I met Mahogany Beef Stew and we began a torrid love affair.  He's so meaty and hearty, there's plenty of him to share.
This would be a perfect thing to fix, say, today or tomorrow, then reheat and serve on Saturday when you're really sick of turkey or have already run out.
Let's put on our aprons.
(Recipe adapted from Bon Appétit) (Fancy!  I know!)
4 tablespoons olive oil
3 1/2 pounds boneless beef chuck roast, trimmed, cut into 2 1/2-inch pieces (or pre-cut stew meat)
1 medium-large onion, chopped
2 cups red wine (pinot noir, cabernet, zinfandel…whatever you like)
1 can reduced-sodium beef broth
1 14.5-ounce can diced tomatoes with Italian herbs, undrained
1/2 cup hoisin sauce (can be found in the Asian aisle)
2 bay leaves
1 pound carrots, peeled, cut diagonally into 1-inch lengths
1 package of baby portabella or white button mushrooms, cleaned and sliced
1 1/2 cups of peas (frozen or canned)
1 tablespoon cornstarch mixed with 1 tablespoon water
2 tablespoons chopped fresh parsley
Heat 2 tablespoons oil in heavy large pot over high heat. Sprinkle meat with salt and pepper. Add meat to pot; sauté until brown on all sides, about 10 minutes. Remove meat from the pot and place on a plate to add back later. Allow the pot to cool or the onions will burn.  Once cooled, set the heat to medium-low; add 2 tablespoons oil to pot. Add onions; sauté until golden brown, about 10 minutes. Add carrots and mushrooms.  Cook for 7-8 minutes.  Mix meat into vegetables. Add 1 cup wine, beef broth, peas, tomatoes with juices, hoisin sauce, and bay leaves. Bring to boil.
Reduce heat to low, cover pot and simmer 45 minutes, stirring occasionally.  Add the remaining cup of wine. Cover; simmer 30 minutes, stirring occasionally. Uncover, increase heat to high; boil until sauce is slightly thickened, stirring occasionally, about 15 minutes longer. Reduce heat to medium, add cornstarch mixture and simmer until sauce thickens, stirring occasionally, about 8 minutes. Discard bay leaves. Season stew with salt and pepper.  Serve sprinkled with parsley.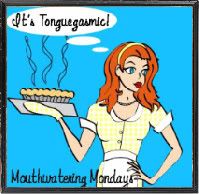 Head on over to Rachel's place for more recipes!